Adelaide Arborist in trinity gardens specialises in tree removal, Tree trimming, Pruning, hedging and stump removal. We are your local Arborist in trinity tardens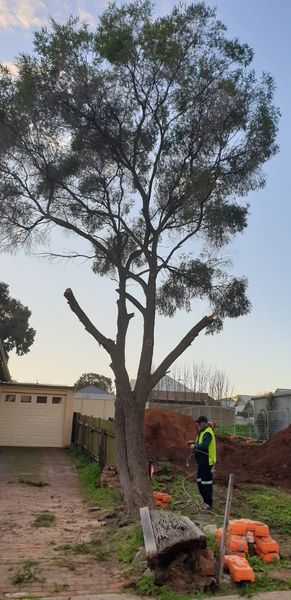 Tree stump removal – The overall process!
What is the best method to remove a stubborn stump? Firstly we must know how many methods exist. Chain and a big truck is one among them or hacking away at the ground with the help of an axe or shovel. If you wish to play safe, then digging is the ultimate option. Even then, digging with the convention tool to remove a stump is prolonged and effortful process. It is not surprising to say that the stump and roots are the main cause of broken landscape tools and equipment. If you have ever tried your hands for picking out the stump through shovel or pick-axe then you must be aware that the best way for tree stump removal in Trinity Gardens is to call pros.
Tree stump removal as a process
Stump grinding is one of the many services offered by your local tree care agency. The stump grinding process involves the removal of the entire stump core which could vary in diameter and depth depending on the age of the tree and also on the location as well as the surrounding obstacles. The service provider for tree removal in Trinity gardens considers all such aspects like the horizontal roots spread above the ground level and grind them too. Once they grind all the roots above the ground they fill the holes with the soil mixed debris. Then they sweep the area to make it esthetically sweeping.
The average time consumption for tree stump grinding is around 1-2 hours. The charges may vary depending upon the size, width depth, and accessibility of the tree stump. You may need to bear the charges but hiring a professional tree care service provider can help you manage the tree stump removal task a bit easier. It is better to hire a tree care service despite taking risk of doing it by yourself.